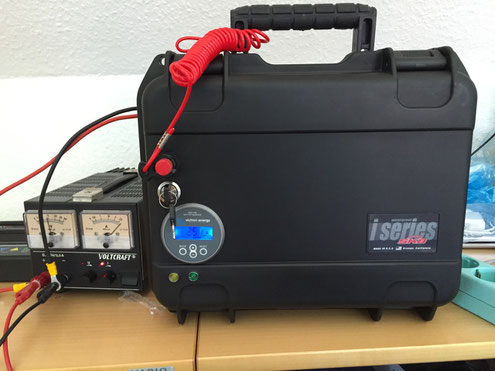 When designing the electrical system for Entropy it became clear that we need a backup BMS module in case the main installation fails.
In addition we were interested in avoiding the traditional gasoline driven outboard for our dinghy. The decision was taken quickly: let's go electrical!
To run an electric outboard one needs a compact, portable power source. The ideas was born to use roughly the same design as in the main battery bank and build a mini version in a rugged, waterproof case.
You can see the final battery pack here, that was when it was just finished and I was charging the pack for its first actual test drive.
Schematics
The portable battery pack uses the same BMS module used for the main installation. If anything goes wrong with the main BMS, we can just open the case, take out the BMS and replace the failed module on the service battery bank. That way we are taking the BMS module backup to actual use (BTW, we are paranoid. We will build a second portable battery pack in case on gets stolen or lost...)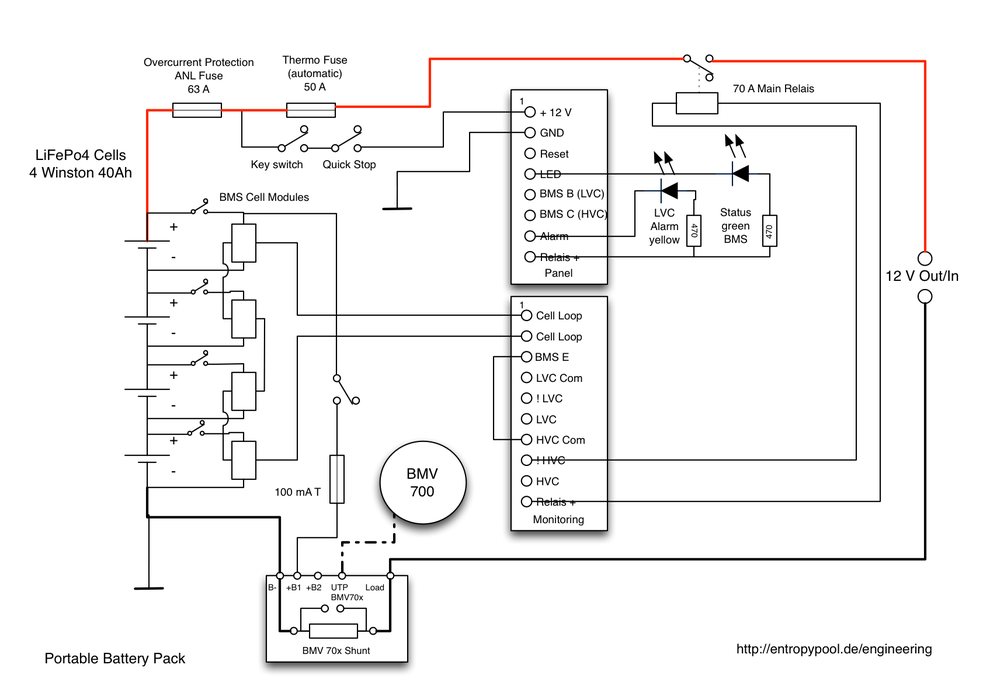 The internal wiring of the Portable Battery Bank is very simple, thanks to the preparations done in the BMS module.
The plus side is protected by a 63 A ANL fuse (emergency protection). In "normal" overload situations the resettable 50 A thermo fuse is triggered, shutting down the main load but leaving the BMS online.
The BMS is wired to switch off the main relay on HVC event or when reaching protection levels on the low charge side. We specifically do not want to shut down the bank when reaching LVC level, so only a warning light is triggered.
Hence, an LVC/HVC event is signaled by a yellow LED, leaving a decision to the operator.
Power consumption is monitored by a Victron BMV700.
All components (including the cell modules!) can be physically switched off to allow complete shutdown for prolonged storage.
The pack is designed to deliver up to 50 A peak current and about 35 - 40 A continuous current (keep it in the 1 C range of the cells).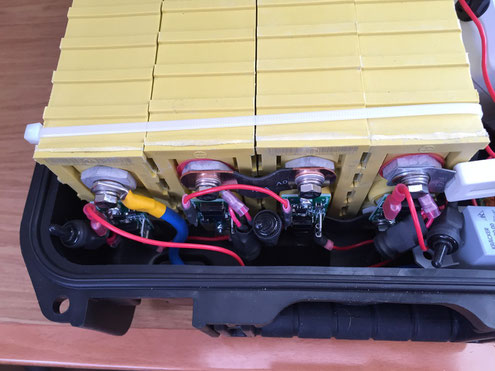 The cells fit exactly into a waterproof SKB 3I-1209-4B-E case. The rest of the installation juuust fits the available space, but it was possible to cram all the stuff in without breaking it.
By fixing the heavy shunt of the BMV 700 to the bottom of the case the cells are prevented from moving.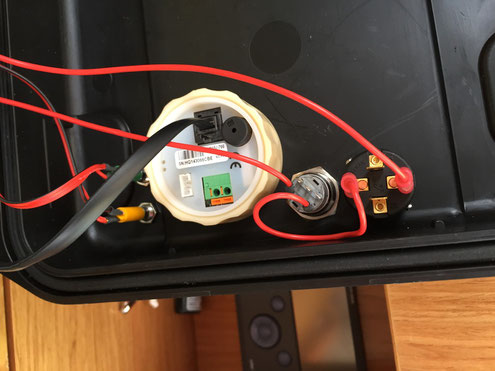 Wiring is simple and straight-forward.